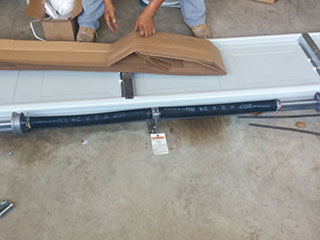 Garage door springs are perhaps the most important parts of your overhead door. Even a minor issue with them can render your door inoperable. Since these components are under a lot of tension and can cause a serious injury if they are mishandled, it's important that you seek professional help whenever you are faced with a problem. Even broken springs are dangerous, as the task of replacing them involves installing new ones in their place, which means dealing with a lot of weight and tension.
Two Types - One System
Garage doors nowadays use one of two different types of springs. If there is a horizontal metal shaft stationed above your door with black coils wrapped around it, then congratulations, you have a torsion spring. These units are often the preferred choice, as they are more durable and flexible than their counterparts. They work by providing creating torque, which twists the shaft and rotates the drums attached to it. The drums then unwind the lift cables that pull the door up. If you have extension springs installed, then you will see two units running perpendicular to the door, one on each side. They stretch while the panels are lowered and use that stored energy to later pull them up by contracting. Because of this, springs of this type are considered more dangerous and are often intertwined with safety cables that help keep them in place when they break.
This Is Our Speciality
We only work with technicians who are highly experienced and extremely well-trained for the job – so that you can rest assured that their work will be perfectly done and last for a long time. The torsion spring broke, you say? No problem at all. Our experts have handled this type of problem many times before. One of your extension springs snapped and you don't know how to handle the situation? Just hang tight. We'll send someone right over. Garage door spring replacement is no easy task, but our team follows strict safety-ensuring guidelines in order to make sure that no risks are taken.
We Have The Solutions
Our company, Garage Door Repair New Braunfels, has been around for long enough to know that the opinion of our customers' opinion of our service is important. Therefore, no matter what your problem is and no matter whether you have oil tempered or galvanized torsion springs, we can provide you with the best there is in terms of service and advice. Contact us today for any related need.
We also offer the following:
Part Replacement & Lubrication
Broken Spring Replacement & Repair
Genie Garage Door Opener Services
Extension & Torsion Spring Replacement