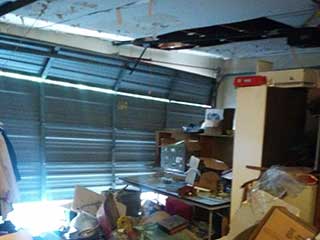 Trying to fix garage door problems by yourself is terribly dangerous if you don't know exactly what you're doing and have the required skills and experience. If you find yourself facing any type of malfunction, our technicians can come and take care of it for you.
Troubleshooting A Reversing Door
If your door doesn't close no matter how many times you use your remote control and wall-switch to order it to do so, we can help. If all your door does is start to lower but then reverses, then chances are you have a problem with the safety sensors. There's a good reason why cleaning the surface of their lenses and realigning them so that they face each other is such a key part of our maintenance service. However, if the problem proves to require sensor replacement, you can count on our team to install new models in place of the malfunctioning ones. If your overhead door closes only partially and gets stuck, then you may have a problem with one of the tracks or cables. If you have a bent track, we'll straighten out the dents and repair it. In case you have a broken cable or track, we'll replace it with a new one of a matching quality (or higher).
Replacing Worn Hardware Parts
The primary sign of wearing is noise which doesn't go away with cleaning and lubrication. Our check will show which hardware parts are worn. You can tell not only by their looks but by the way they sound when the door is in motion. For example, the cables will typically make scraping sounds which are quite annoying. Rollers will usually produce popping sounds as they roll along the tracks. Hinges might make squeaky noises. Lubrication can sometimes reduce the working noise of various components, but eventually, they will need to be replaced entirely. That's what we're here for.
Fast And Professional Repairs
This usually indicates a serious problem so you should refrain from running the opener and touching the door until we arrive. More often than not, the issue is caused by a broken spring which we'll quickly replace. Our technicians are experts at replacing both extension and torsion springs. Alternatively, if it's the opener motor that's started to malfunction, we can take care of that too. If it makes a grinding noise, this can indicate a broken internal gear, which will require motor repair. Our services cover all opener types and brands so there's no model we can't fix for you.
Whatever You Need
No matter how complex or dangerous the problem that's affecting your door is, you can count on our team at Garage Door Repair New Braunfels to fix it. Contact us today.
Looking for more? We also offer:
Extension Spring Adjustment
Emergency Garage Door Repairs
Screw Drive Opener Replacement
Garage Door Opener Maintenance