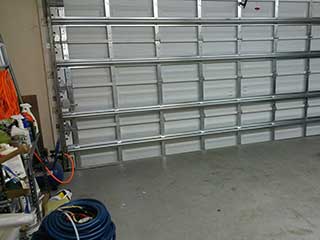 It can be incredibly annoying to have to deal with some type of a garage door related problem. Not only annoying, but dangerous too; and let's not talk about expensive. To help homeowners avoid as many problems as possible, we started offering regular maintenance appointments, during which our technicians perform a variety of minor repairs and tweaks, which in turn will save you money and time on all sorts of unexpected issues.
Keeping Things Safe
A garage door opener can make your life considerably easier and more convenient. However, it is still a machine, and therefore it must be checked and tested to ensure that its safety features are working correctly. We'll check the safety sensor alignment and readjust the photo eyes if necessary. We'll also test the auto-reverse function and see to it that the door does in fact open back up when it hits an obstacle.
Load Bearing Parts
Both your garage door springs and cables need to be examined every so often to make sure they aren't about to break. Although these components are built with durability and longevity in mind, they're not invincible, and eventually the constant stress they're under will take its toll. We'll make sure to replace them before they snap, and to lubricate the necessary sections to keep the movement of your door as silent and efficient as can be.
Get Things On Track
The panels of your door are able to open and close with smoothness and ease thanks to the rollers attached at their sides. These units move inside tracks, which guide them up and down and keep the door's movement steady and consistent. Bent tracks, however, could cause some rollers to pop out, which can cause the door to get stuck, or worse. We'll straighten out any bent sections and make sure the wheels are properly lubricated to keep their movement as smooth as possible.
Get In Touch With Us Today
Don't hesitate. If you think some part of your system is about to break, or if you want to prevent a lot of problems in the long run, reach out to our team at Garage Door Repair New Braunfels and join many other homeowners who benefit from our regular maintenance service.
Want more? Let us take care of:
Opener Sensor Replacement
Garage Door Tune Up Services
Garage Door Cable Replacement
Overhead Door Repair & Installation