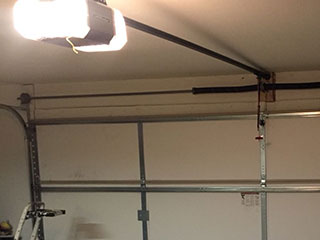 Not only can a malfunctioning garage door opener inconvenience you, it can also lead to dangerous accidents if the underlying problems are not quickly and effectively addressed. Our professional team can work to diagnose your issues and get your opener up and running again quickly. If your opener is not regularly maintained, its performance can become unreliable. Our technicians will examine all of the different parts of this electro-mechanical device to ensure that everything is in an optimal condition. If we find that something is wrong, we will immediately fix or replace the part in question.
Remote Not Working Properly
If you start noticing that your garage door won't open when you use the remote, but that it opens as usual when you use the wall switch, you might be facing one of two issues. First, check to make sure that the batteries in the remote are new and that the antenna on the motor unit is undamaged. If both are fine, then our team can come out and make sure that your remote is properly calibrated with your opener or replace it if it is beyond repair.
The Motor Is Continually Running
If you noticed that the opener motor continues to run even after the garage door is opened or closed all the way, you could be dealing with a problem with the travel limit switch. This is what determines how far your door will move up or down. It can cause the door to slam to the floor or only open halfway. Our team can quickly adjust this and ensure that your door closes and opens exactly the way it's supposed to.
Opener Stops Mid-Operation
Garage door openers manufactured after 1993 are required by law to use safety features that can prevent them from hitting an obstacle that gets in their way. The most common ones are the safety sensors. If your opener stops and reverses when you try to close your door, or doesn't move it at all, you could be dealing with sensor misalignment. These small devices, otherwise known as the photoelectric "eyes", are installed on each side of the opening to the garage and send an invisible beam across the threshold. If a person or an object breaks the beam, i.e. stands under the open door, the sensors will alert the opener, which will then automatically reverse the door's movement. These components are very delicate, so our team can carefully realign them for you or even replace them if their lenses become damaged.
Contact Us Anytime
Our team is familiar with all the major name brand opener manufacturers, from LiftMaster to Craftsman and more, and we can fix any type of problem your unit is experiencing. Don't hesitate to get in touch with our experts at Garage Door Repair New Braunfels to schedule an appointment today.
Couldn't find what you're looking for? We also offer:
Garage Door Troubleshooting Services
Garage Door Torsion Spring Replacement